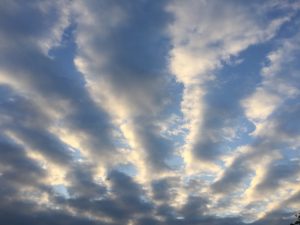 The laws of the kingdom of heaven are different from the laws of this world, that are familiar to us. When I talk about the kingdom of heaven, I talk about the dimension of eternity. In eternity there is no past or future. In the kingdom of heaven there is no time.
In the kingdom of heaven there is no gravitation, heaviness, no time. Everything is without darkness, colors are intensive. In heaven there are no pains, no age, no suffering and no crying. (Rev 21:4). In the kingdom of heaven love is ineffable. There is no death anymore, nothing ends and everything lives.
The laws of the kingdom of heaven are exactly the opposite, as the laws of this world. Although man expects, that especially spiritual people, particularly religious and spiritual leaders, the well educated will populate heaven, Jesus claims: Mt 5,3 " Blessed are the poor in the spirit for theirs is the kingdom of heaven."
Whereas you would expect especially well mannered people can be found in the kingdom of heaven, Jesus says exactly the opposite, when he talks to a group of religious people: "I want to clarify, that cheater and whores will come easier into the kingdom of heaven as you religious people." (Mt 21:31)
The spiritual laws are exactly the opposite of the laws of this world:
Peter and Jesus walk upon the water. (Mt 14:28; Mk 6:48)
Jesus says: "Whoever has faith, and has no doubt in his heart, shall say to the mountain that it shall remove and it will remove." (Mt, 17:20; Mt 21:21; Mk 11:23)
Who gives money, increases money. (Mt 6: 37-44; Mk 8:1-8)
Who loses, wins. (Phil 2:8-9)
Who abuses power will be humbled down (Lk 1:52)
Who humbles himself will be exalted (Mt 23:11; Lk 14:11; Lk 18:14)
Who dies to himself, will live eternally (Mt 10:39)
Who only relies on himself, will be forsaken (Lk 9:25)
Who wants to find his life, will lose it (Mt 10:39; Mt 16:25)
In this contradiction the kingdom of heaven remains eternally, while this world and this world-order will vanish. When the eternity of the kingdom of heaven has come near – so the end of this world has come near. Also it means, that everyone, who believes in Jesus, can have access to the kingdom of heaven and the supernatural power of Jesus. Jesus says that the kingdom of heaven has come, when HE expels demonic powers. (Mt 12:28)
There are also moments, when the kingdom of heaven is going to be visible in our world. It is, when Jesus is active. In such moments the laws of nature, that we are used to, are suspended. Then, everything is possible.
In the kingdom of heaven spiritual laws apply. They are irrevocable. It is like a magnet attracts filigrane iron fillings and when there is something missing, the gap must and will be filled differently until harmony is recovered. That causes again a gap somewhere else. Sin is causing gaps and gaps and gaps – because every time something is missing. In the kingdom of heaven everything has to fit perfect, that the order remains. Jesus has filled the gaps, by paying the price through his blood at the cross of calvary.
This spiritual law is absolutely severe. Jesus says: Everything is counted. Even your hair. (Mt 10:37; Lk 12:7). Nothing gets lost in the kingdom of heaven – no action also not one single motive of actions. (Lk 12:4-8; Mt 18:28-33)
Jesus has said about himself, that HE is the only way into the kingdom of heaven. (John 14:6). Everywhere where Jesus occurred, the kingdom of heaven became visible. Jesus is the entrance to the kingdom of heaven. He says: "I am the door. When somebody enters in by me, he will be saved." (John 10:9). Also today, when Jesus occurs, things happen that exceed the accustomed thinking: "The blind can see, the lame walk, the lepers were cleansed, the deaf hear, the dead are raised up and the poor have the good news preached to them." (Mt 13:5)
Faith in Jesus Christ is supernatural. Where people live by faith in him, HIS power becomes active. Then the laws of this world order will be suspended and the laws of the kingdom of heaven become effective.
That is the outcome of faith in Jesus.
Prayer:
Lord Jesus Christ, I want to be connected to you. Let your truth become real in my life. I want to see you and have access to your kingdom. I believe that you are the door. Please open it to me. You say: "Ask and it will be given, seek and you will find, knock and it will be opened." I knock and I seek and I beg you: Show yourself to me. Thank you, that you stand for your word. You do, what you say. I want to see you. Forgive my debts and deliver me by coming into my life. I give you my life and beg you, to lead it. Now, come inside of me and set me free. Fill me with the power of your Holy Spirit. Thank you, that you are doing it, because you have said it in your word.
AMEN
(c) Steffen Bürger
Thanks to Sarah Nafula for proofreading.