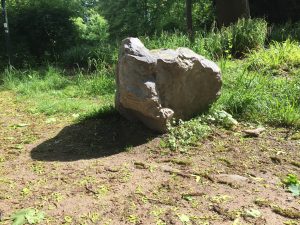 "You are Peter and on this rock I will build my church, and no power of death will overcome it." (Mt 16:18 own translation)
Soon after the outpouring of the Holy Spirit and the awakening of the first church we can read about the miracles of Peter, how he moved around and how people searched for him. The reason was,  that on him was an anointing, that makes healing and healing miracles very sure or caused another recovery. (read Acts 9, 32-43).
Jesus meant these effects of the Holy Spirit through the hands of Peter, when he said, that he will build his church on this rock.
It is the steadfast faith, built from the Holy Spirit, his discipleship, the obedience of Peter, that causes these signs and wonders, because Jesus agrees to people that do his will. On this rock Jesus builds his church.
This is on one side admonition to live like Peter and to preach the word like him. And on the other side earmark: a church is build on the effects of the power of the Holy Ghost. That is the rock, on which church is based: The living signs of the beginning of the kingdom of heaven and the love of God: Signs and miracles.
Jesus says also to Peter in Mat 16:19: I will give you the keys of the kingdom of heaven: What you bind on earth bill be bound in heaven and what you loose on earth will be loosed also in heaven. (own translation).
This scripture about Peter is very remarkable, because it stands in relation to the question of identity of Jesus as the Christ. Jesus asks his disciples, who they think is the son of men for people.
The disciples answer, that some think, he is John the baptist, Jeremia or Elia, with reference on his magnificent signs and wonders. Peter acknowledges, that Jesus is the Messiah. Jesus confirms to him, that he is only able to know this, because the father in heaven has revealed it to him (Math 16:17). With this understanding he gets his call and his name of spiritual power, Peter, the rock.
That means also, that the son of men, the Christ in his human nature, (of course with his godly qualities), is the forerunner for this life, that goes along with signs and wonders. He has transferred them to Peter. And his church is built on this feature. The church of Jesus operates with these signs and wonders of the Christ. This is the expression of the love of God and expression of the Kingdom of God that has already begun.
That Simon (in English "culm") becomes from Jesus now the name "Peter" (in English "rock"), is the calling of Jesus, that Jesus later renews, after Peter had miserably failed after he had denied Jesus three times when Jesus was trapped and examined.
Peter had denied him miserably although he had promised to him, to be faithful until death. Because he had promised that, the more he should have stood by Jesus.
In his human nature, Peter is inconstant and weak – Simon ("culm"). But in his spiritual nature, in the Holy Spirit, he is Peter, the rock, very strong. Upon this rock, the Spirit of God, that manifests himself in a person through faith, like in Peter, Jesus has built his church – on Peters example: The weak man, that operates through faith strong and magnificent signs and wonders.
That is the rock of Peter and that applies to everybody that has accepted Jesus and is a key feature to every church.
What makes now a difference to a Christian and with this to the church?
1. That, who is revealed, that Jesus is the Christ, belongs to the church of Christ. (Matth 16,17). Revelation is more than only knowledge.
2.In his after his nature a weak person, like Simon, (Meaning: "culm")
3. A weak person gets strong, when it has the spirit of God (Meaning: "rock"). That means, he has the revealed understanding, that Jesus is the Christ.
4. The first church came into being by a sermon of Peter, inspired by the Holy Ghost. (Pentecostal sermon of Peter). 3000 people came to faith in Jesus through this sermon.
5. Signs and wonders follow normal people, like Peter, that have learned to know Jesus personally, to follow him, by doing his will. That is possible, because they have his Holy Spirit inside of them. (Acts 9, 32-43)
Prayer:
Thank you, Lord Jesus Christ, that you have chosen me. I am like a calm, a weak person. But through me you work signs and wonders, because you filled me with your Holy Spirit and I follow your voice and listen to your voice.
Thank you, that your death at the cross, your blood, your resurrection has changed everything: I am now a citizen of the Kingdom of God and live in your mandate, the authority of the creator. Thank you that your love loves me through and through and has accepted me and all that, what I am doing from now on is based on your love.
AMEN
(c) Steffen Buerger