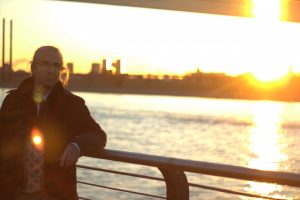 Words of faith are words against fear… (Hebrew 11,1 and 3).
Some people think faith would mean to solidly agree to something, it would be true. According to that they are convinced, if they would solidly think about the cross and Jesus and they would agree, then they would believe. But somehow God remains far from them. For them God is not more than an abstract term, that you have to accept in the mind and that you have to describe – and Jesus is not more as the name of a person, that has done many good things.
By having this religious approval, faith has become a religious system with rules that you have to follow when you want to be part of it. Basically for such people faith is something, what you essentially doubt, because God is not really tangible. Who everytime reinforces an assumption in his mind will not get over his remaining doubts.
This way of faith would mean, I would lie to my self until I am used to that lie and I dont deny it any more – that is a dangerous deception. Agreement without an encounter with Jesus will never lead into real, deep faith. Who remains in this understanding of faith, will continue to be captured in his fears, worries and doubts. Then, somehow God is far and in the end nothing in ones own life is really changing – except that the rules are stealing ones joy.
The letter to the Hebrews has a central passage about what faith means:
"Now faith is the complet convinction of things expected for, the evidence of things not seen. Through faith we understand that the worlds were created by the declaration of the will of God, so that things which are seen were not made of things which are visible. (own translation) – Hebr. 11, 1+3)
In other words: the person that has faith is expecting something to come to pass. This expectation is an inner knowledge. You can compare this expectation and inner knowledge with the authority of a teacher that talks friendly to his students: "Please stand up" – and he is totally convinced that the students do what he expects. That, again, causes the action: The students stand up.
This expectation is an inner knowledge with intensity and confidence that what I expect will happen. In the end the teacher cannot really know if the students will stand up but in his inner mind he is confident that they will do it – and so they will act like he expects.
The expectation and confidence of faith is addressed to things that you can't see. For example you stand before a person that is sick and soon your mind develops the conviction that God will heal this person. Now you are confident: "I know, that I know, that I know: God will heal the person". With this confidence you say in complete confidence and expectation: "In the name of Jesus – be healed." And the person gets up and is healed.
This expectation is an inner knowledge, strong confidence, that Jesus loves me and all people. It is the strong conviction that he heals my whole life and that he supports me with all good things. This expectation is built with an inner imagination about the presents, God wants to give me in my life.
It is the strong conviction, that he makes my life whole and that he will send to me all good things. This expectation is built by an imagination about the things, God will give me as a present in my life.
It is possible that it is a special personal need – and you know, that God cares about you.
Just an example: maybe somebody has got a new Job. But without a car he could not reach the working place. He just needs a car – otherwise he couldn't work. A loving God would never give somebody a stone when he asks for car that he really needs (read also Luke 11, 9-13). What do you think would a loving father do, that has all opportunities? God wants much more for us. Faith is activating God. When we have faith, then God will act. Faith moves God to act for us.
Faith is now. It is the moment where I am united as one with the will of the father. In this moment my action is absolutely aligned with the will of Jesus. And because Jesus and I are one it is HE that shapes and determines my action. At that moment no thoughts or other wishes are between me and God. At that moment there is only the wish and the confidence to be one with the father. That moment includes the confidence to know the will of God and to do it.
Every time we believe something. Fear is also a way to believe. He who fears, has faith in the bad things in his life. And this is the same with the faith that expects all good things from God: Things come to pass according to what you believe (Mark 11,23-24).
Fear provokes satan to act with his paralyzing, disease – causing and other negative activities.
Faith provokes GOD to act with his healing authority.
So everybody has the opportunity to choose: to perish in fear or to grow in faith by the resurrection power of Jesus Christ.
Hebrew 11,3 says, that the visible world is not created by things that are seen. Faith has a productive component: the invisible, spiritual world, the world of God, is the source of the visible world.
This age has come to pass by Gods declaration of intention – by the word of God. When we are aligned to Gods will and we act on his word, this declarations of intention, that have its source from faith, cause things, that are tangible. Things that already exist in the invisible world become tangible and come to existence in the truth of the realm of time and space. Things become true through faith. Faith that is in line with God forces thoughts and words to acts of creation of God. I talk and it comes to pass, because I talk in the name of Jesus, the Messiah, the son of God.
Aligned with God thoughts are not anymore just thoughts, but preludes of a creation – references about the things that already exist in the heavenly realm, the eternity and that will take shape tangible in the physical realm.
Faith, the spoken word and action deliver it into this world – God is materializing it through our faith. It becomes tangible, so that everybody can see, feel or taste it – according to the senses that are involved.
Jesus is good to us – he wants to lead our lives – he wants to give us power and authority through faith, that exceed our natural capabilities.
PRAYER:
Dear Father in heaven!
I am coming to you in the name of Jesus Christ. I thank you for the faith, that you have given to me. I am also aware of my unbelief. Please change my mind and my soul and affect my spirit and let me trust that you are only good to me. Help me to trust in your word and in your promises, that every step of my life is connected with you and that you do that work through me, that you already have prepared in the heavenly realm. Make me to a warrior of your word and to a creator through faith in you. Help me to live the life, that you have chosen for me. Make me fulfill the purpose of my life, that you have intended for me, and that my faith is alive.
AMEN
(c) Steffen Bürger
Thanks for proofreading by Sarah Nafula