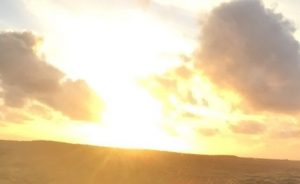 The prophet Ezekiel lived about 600 years before Jesus Messiah. Already at that time Ezekiel gives hints, that Jesus saves through his dead on the cross: Ezekiel 9, verse 4 and verse 6 tell us that those inhabitants of Jerusalem, that suffer under the devastating and godless situation, get a taw upon their forehead. Those, who wear this cross upon their forehead, would survive the coming judgment of God that should come upon Jerusalem. (View Part 1: "The seal upon the forehead saves")
Ezekiel 9:4 is an archetype for today, what has happened as spiritual truth – after the crucifixion and resurrection of Jesus Christ – through the Holy Spirit. Revelation chapter 9, verse 4 quotes Ezekiel 9:4 and tells, that in the latter days all people that are overcomers of evil wear the seal upon their forehead. Those, who have the seal upon their forehead will be saved from the coming judgment.
But what is this seal upon the forehead? The apostle Paul gives a hint in 2 Corinthians 1, verse 22-23. All people who live their faith in Christ, are sealed with the Holy Spirit: Not religion or good and religious or ritual deeds determine the new life in Christ, but the Holy Spirit, that gives faith in Jesus Christ. The Holy Spirit is the seal that seals those who believe in Jesus Christ. (Eph 4:30; 2 Cor 1:22; Eph 1:13).
Remarkable is, that the seal is upon the forehead. It could be elsewhere. The forehead symbolizes spiritual sight. Who is sealed with the Holy Spirit, gets the ability, to look with spiritual eyes into Gods eternal world, into HIS heaven. Who is sealed with the Holy Spirit, will be drawn more and more into HIS reality. The reality of the father, the son Jesus Christ and the Holy Spirit. He senses HIS presence or he sees HIM increasingly with spiritual eyes. Who seeks constantly this proximity of Jesus, whose sight into the open heaven is gets increasingly precise and sharp constantly.
During the time of Ezekiel a sign was drawn on the forehead, that saved those people from the coming judgment upon Jerusalem, who suffered from the devastating unmoral conditions. Today it is different: People today, that believe in Jesus Christ, wear an invisible seal of faith on their forehead – invisible but tangible. They have eternal life and they will be saved from the coming final judgment.
Now in Revelation 9:4 John describes, that this cross now has become a spiritual seal. The people of Israel put blood on the at the doorpost. That way the angel of death, that was about to kill all priogeniture, passed by those, who had put the blood at the doorpost. All those, who had put the blood at the doorpost, believed the word of the LORD, that they would be saved. (Exodus 12, verse 7 and 13). Likewise it is a picture for the blood of Jesus, for all, who have learned to know Jesus Christ personally and follow HIM, HIS ongoing forgiveness is written in their whole minds. They have the mind of Christ (1 Corinthians 2,16). This mind of Christ means at the same time, that the blood of Jesus is written in the minds of those, who are saved. It is the faith, that the angel of death cannot affect those anymore, who have the mind of Christ. This mind of Christ originates from letting yourself being cleansed by the blood of Jesus constantly This is letting go of that, what divides you from God, permanently and actively
It means at the same time, that this has become a way of living through faith in Christ: Those are people, who conquer with Jesus the challenges that they are facing in their daily life.
Who believes in Jesus and live by faith, wears a spiritual sealing on his forehead, because his spiritual eyes are opened. Who has the seal on his forehead, views into the open heaven – he has he open heaven in front of himself and follows Jesus. In relation to this, carrying his cross has now two meanings: First: On the back, to let loose the burdens and second: On the forehead, to see Jesus through the open heaven and to follow him. As John says in the book of Revelation: "They will see his face and on their foreheads will be his name." (Rev 22:4)
Because of this Jesus says to his friends: "I have told you these things, that you might have peace in me. In this world people will apply pressure on you: but be courageous; I have overcome the world." (John 16:33). Who wants to be persistent against this pressure of the world, must let go of himself and others continually. Thereby his view into the reality of God will be opened and in the Spirit of God he can live under an open heaven.
In the last book of the bible people are also named, that carry a mark on their forehead or on their hand. It is the mark of the person, who will be the announced ruler of the world. These people will not be saved. What is this mark about? I will describe in the next blog.
Prayer:
Lord Jesus Christ, I give my life into your hands. I will not anymore live by my own efforts, but I want to be led by your Holy Spirit. Thank you, Lord Jesus Christ, that you died and resurrected for me. Thank you, that you shed your blood for me. Through this you released me from everything, that has been a burden in my life. Fill me with your Holy Spirit, with wisdom and revelation, that I can see with spiritual eyes of the heart. Thank you, that I have your seal on my forehead, because I believe in you. Help me, that I become an overcomer and that I will not align myself to this world, but let myself be led by you, because my life belongs to you and my home is not this world but there with you, in YOUR eternal, heavenly realm. Thank you, that you will never leave me and that you will lead me through all challenges.
AMEN
(c) Steffen Bürger
Thanks to Sarah Nafula for proofreading.